Single Double Glazed Doors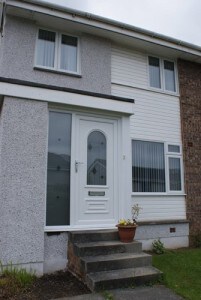 At Advanced Group, our Upvc single Double Glazed Doors, back and front doors are stylish, energy efficient and secure to create the perfect entrance to your home or garden, whatever your style.
Single Double Glazed doors the range
We have a massive range of styles for both traditional and contemporary homes, each individually tailored to fit your home perfectly. Our wide range of door furniture lets you pick every single finishing touch right down to brass handles, to ensure that it's exactly right for your home. All of our uPVC triple and Single Double Glazed Doors, front and back, are individually built to order to ensuring quality and precision. Our installation team are highly trained and are dedicated professionals with the desire to find perfection in every job they undertake. Energy efficiency is something of concern to a lot of people who would like to reduce their carbon footprint, with triple or double glazed doors from The Advanced Group, this becomes more easily achieved. We provide quality, energy efficient  which keep the bills down and heat in, at the same time as keeping the cold and noise out. Our single double glazed doors have all the latest locking technology available to the industry, providing you with quality, security and peace of mind and all of the other benefits of double glazed windows and doors.
Single Double Glazed Doors benefits
Like all of our uPVC products our single double glazed doors are fully guaranteed for ten years, by far exceeding the industry average. We use the same high quality uPVC in all of our products and our expert fitters will ensure you get a great quality finish as well. Using high quality uPVC is just one of the benefits others include;
Increased energy efficiency
Save money on heating bills
Heat retention
Noise reduction
Reduce your carbon footprint
Increased security
Reduced condensation
Low Maintenance
To find out more about our single double glazed doors call us now on 0800 0098 189 or fill out one of our online forms when we will be more than happy to offer our  FREE no obligation quote.