The Windows Scrappage Scheme is Back!
The Advanced Group's latest offer on our fantastic Energy+ Efficient Triple Glazing is something you may have seen previously, however, with our current Window Scrappage Scheme now we have added our Advanced Energy+ Triple Glazing into the mix and that offers you even more value.
The Windows Scrappage scheme offers you the chance to receive £100 cashback, per window when you invest in our Triple Glazed Replacement Windows. We will take you old double glazing and will recycle it. The Replacement Triple Glazing you get from Advanced will provide you with great thermal performance in your home, reducing your heating costs and with our replacement windows starting form only £359 each with nil deposit finance, where you don't pay anything until your completely satisfied, your new replacement windows will pay for themselves in no time. If you couple that that with the windows Scrappage deal that means that the price of your triple glazed replacement windows will start from a meagre £295 each.
Another thing that makes this such a great deal is that we only use:
40 mm Triple Glazed Glass
2 Layers of Coated Glass
1 Layer of toughened Glass
2 Carbon Fibre Spacer Bars
Argon Gas Filled
0.7 u-Value Glass
With a deal this good, can you really afford not to.
Call The Advanced Group on 08000 502 502 For Your FREE No Obligation Quote today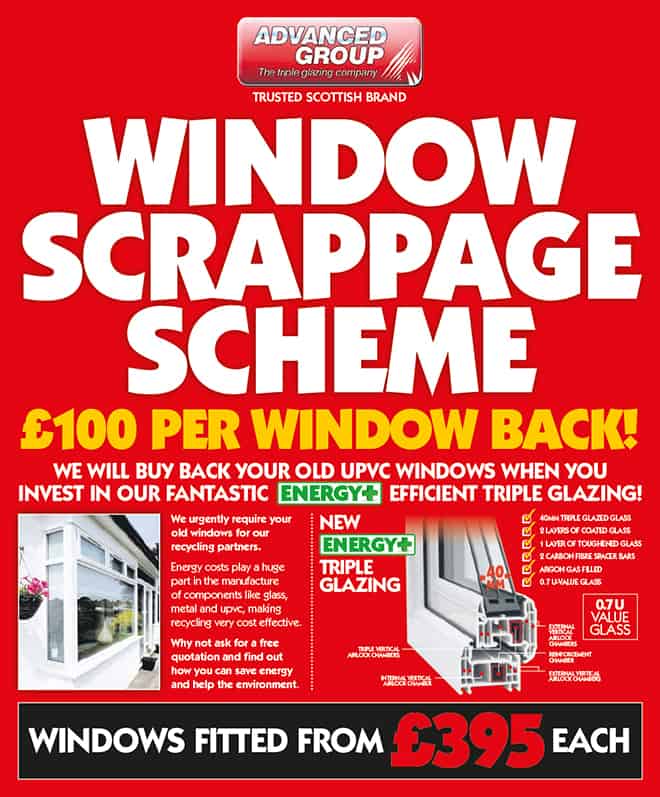 Money well spent
"I was broken into and the door was badly damaged. The original door was cheap so I purchased a 40mm UPVC door from The Advanced Group. The quality difference is night and day and this door will definitely withstand a kicking. Money well spent."
Mrs Allan - Dalkeith Feb 15, 2015

View More Testimonials