Double Glazing
New uPVC double glazed windows can transform the look of any property, to really boost your kerb appeal. They're a great investment too, adding real value to your home. With such a wide range of uPVC double glazing and uPVC triple glazed windows and doors to choose from, you're sure to find exactly the right style here at the Advanced Group. We've got hundreds of different styles, shapes, and colours- so come and check out what we've got to offer!
Double Glazing Glasgow, Edinburgh & Aberdeen
At the Advanced Group, we've got the biggest range of uPVC double glazed windows and doors in Scotland!
For over 31 years, the Advanced Group have been providing Scotland with the very latest in uPVC double glazed windows and doors. Using advanced double glazing technology, our windows are more energy efficient than ever, helping you to save a fortune on your heating bills in the long run. Not only that, but using less energy helps the environment, too- so everyone's a winner!
As well as performing brilliantly, Advanced Group double glazed windows are stylish, too. In fact, with such an enormous range to choose from, there's something to suit everyone at our showrooms. Whether you prefer a more traditional approach when it comes to windows and doors, or you're looking for something contemporary, you can be sure that Advanced can deliver exactly what you need. Our selection of style and colour options on uPVC double and triple glazed windows include:
Double Glazed Window Styles:
When you buy our uPVC Double Glazing products, you can be certain of the lowest prices around. That's because thanks to our longstanding partnership with the Camden Group, we can secure great deals on all our materials- and pass the savings on to our customers. You won't find such high-quality products for a lower price anywhere else!
The Advanced Group – Double Glazing Glasgow & Scotland
As we touched on earlier, double glazing is a great way to instantly boost the energy efficiency of your home. If you still have old, inefficient windows, then a huge amount of heat inside your home will escape straight out of the glass. If you find yourself constantly cranking the heating up, then you'll know how annoying this can be, since it will take an extremely long home for your central heating to reach a comfortable temperature. This also means that your energy bills will end up costing you a lot more money- but double glazing will help to keep those bills as low as possible.
Making the switch to double glazed windows could also add to the value of your home, too. Buyers will want to know that their new property isn't going to need any work done to make it energy efficient, and our double glazed windows therefore an excellent choice for anyone thinking of selling their home in the next few years. What's more, all of our uPVC windows and doors are built to last and come with a 15-year guarantee. That makes them a great investment since you can be sure that if anything goes wrong, we'll be happy to repair or replace the affected fittings free of charge!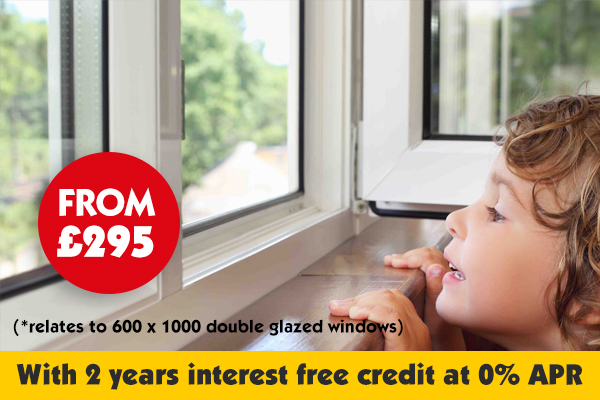 Frame advancements coupled with glass technology means that you can improve your insulation by as much as 60% (based on single glazing 3.0u value against double glazing 1.2u). Today, glass is more efficient at keeping heat inside the house than it used to be. Frost that would normally evaporate due to the heat escaping now appears on the outside- which just goes to show how well our windows perform. If you want to slash your energy bills, then the choice is clear- Advanced Group double glazed windows are the way to go!
Windows From The Advanced Group: Why choose us?
You might think that the companies who install windows into Scottish properties would be fit for purpose. Well, think again.
To cut costs and boost their profit margins, 90% of double glazed window companies have cut down on the wall thicknesses on their window extrusions by a massive amount. This has a huge impact on their effectiveness, and it can also lead to serious problems like water and draught penetration during bad weather. You don't need us to tell you that Scotland sees more than its fair share of this rough weather- so why waste money on windows that simply aren't going to perform as they should?
At the Advanced Group in Glasgow, Edinburgh, Aberdeen and throughout Scotland, though, we do things differently. We make sure that all of our window extrusions are injected with the maximum amount of plastic, to keep them as insulated as possible. Our state of the art machines separate lower grade plastic and insert it into the centre of the window, leaving the highest grade plastic to the outside. That means we can make the most of our materials, and we don't remove any to cut costs. That leaves you, the end user, with no draughts and no water penetration- guaranteed!
In fact, at the Advanced Group, we only use the highest quality components in all of our uPVC double glazed windows. Working with top manufacturers means we can be sure our customers get the quality they deserve. Our window installers are also among the best in the business, to provide a perfect fit every time.
It's that attention to detail which has made the Advanced Group Scotland's number one choice for double glazing. Over the last 31 years, our engineers have fitted over one and a half million windows and doors, and most of our customers end up coming back to us for more after they see the high quality of our work first-hand. If you'd like to discover more about why the Advanced Group outshines the competition, then get in touch today- we'll be happy to offer you a free survey while we're at it!
Get Your FREE Double Glazing Survey Today
When it comes to double glazing, there's a lot for you to think about. From the precise measurements you require, to the style and finish of the final product, Advanced Group offers the most comprehensive double glazing service in Scotland.
To help make things a little easier, and to ensure the installation itself runs smoothly, Advanced Group are delighted to offer you a free, comprehensive survey. That way, we can show you exactly what we have to offer, and guide you through the process to find the perfect double glazed windows for your home. Our surveys are also no-obligation, too, so there's no pressure on you to buy from us- there's really nothing to lose!
Our surveys allow us to give you a precise quote for each installation, so you know exactly what you will pay up-front. While we're on the subject, another reason to choose us for your windows and doors is that we offer zero-deposit finance packages with 4 years interest-free credit at 0% APR. That means anyone can afford our amazing double glazed windows- so why not get in touch to find out more about what we can do for you? Simply fill out the form below, or alternatively call us free on 08000 502 502 to arrange your FREE survey today!