Triple Glazed Conservatories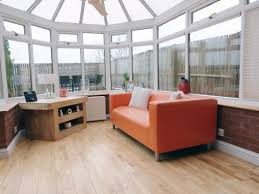 If you really want to take energy efficiency to the next level, then atriple glazed conservatory from The Advanced Group is definitely the way to go. By adding an extra layer of glass and argon gas, our conservatory windows lock in the maximum amount of heat. That way, you can enjoy your new conservatory all year round- even on the coldest winter nights, our conservatories stay warm and toasty!
Our Triple Glazed Conservatories Are The Best In The Business
All of our triple glazed conservatories are made out of uPVC for added durability. That's because uPVC is lightweight yet strong, and can withstand even the harshest winter weather. Other materials may rot and flake, or require repainting, but uPVC is incredibly low-maintenance. All you need to do is wipe it clean occasionally, and your conservatory will stay looking as good as new!
The biggest benefits, though, lie in our special triple glazing approach. We fill each air layer with argon gas, and then coat the inside of the glass with a special solution of semi-precious metals. This helps to lock in as much heat as possible, and keep your conservatory nice and warm. In fact, our conservatories are so energy efficient that frost on the outside won't melt, even with the heating inside turned up high. Our energy efficient windows, doors, and conservatories therefore help customers to save a fortune on their energy bills- so they end up paying for themselves in the long run.
As well as being energy efficient and incredibly durable, our triple glazed conservatories also come in a huge range of different styles, too. From classic Edwardian designs to the very latest conservatories, you'll find it all at Advanced. In fact, we've got the biggest range of uPVC conservatories in Scotland, meaning we've got something to suit all tastes.
Arrange Your FREE Conservatory Survey Today
In our 31 years of operation, Advanced Group have fitted over 1.5 million windows, doors, and conservatories. All that experience makes us the ideal choice to fit your new conservatory- but don't just take our word for it. Get in touch today, and we'll be happy to arrange a completely free, no-obligation survey, to help you find out more about what we can offer you. Our professional installers will come to your home at a time that suits you, and provide you with some expert advice on conservatories.
Once that's done, feel free to come on down to one of our showrooms, where you can see our full range of triple glazed conservatories on display. From the classic Victorian and Edwardian frames to the latest in Lean-to, P-shape and T-shape layouts, as well as loggia conservatories, whatever you need, we can provide.
Arranging your free conservatory survey couldn't be easier. Just fill out the form below, or alternatively call us free on 0800 316 7981. We'll then set it up for you at a convenient time- and let you see for yourself why tens of thousands of customers keep coming back to Advanced!